If you've ever wanted to learn the layering depth and techniques of mixed media abstract landscape art, this comprehensive course will help you bring your vision to the canvas in stunning fashion!
DISCOVER YOUR HAPPY PLACE
Whether you're stuck in a rut with your art or simply looking for new abstract ideas, this exciting course from Australian artist Sharon Blair will help you escape your creative chaos.
Distilling more than two decades' worth of abstract art experience, Sharon will share how to create stunning mixed media pieces from start to finish – using a toolbox of clever techniques. Along the way, you'll draw on your own experiences and memories as you embrace a playful approach to building layers, managing colour and ultimately producing brilliant pieces filled with meaning.
Hi, I'm Sharon – a mixed media abstract artist based in the idyllic South Coast of NSW, Australia. I've spent more than 20 years creating, exhibiting and selling my unique artworks – and now I'm so excited to share my passion with you!
With every piece I create, I draw inspiration from nature. After all, you only have to walk out amongst it for a short time to see nature's random yet beautiful chaos on display all around us. The colours, the patterns – never uniform, but "perfectly imperfect". And it's this same "playful-not-perfect" approach I bring to the canvas – art imitating life and creativity inspired by chaos rather than fighting it.
This sense of play is key to my abstract art – letting each piece evolve organically and celebrating the journey, not just the finished piece. I bring this same energy to my studio, to my in-person workshops, and now, to you in this course.
I invite you to join me for "My Happy Place". Not only will we have so much fun exploring new abstract mixed media techniques across 20 professionally filmed lessons, but you'll also unlock the secrets to creating pieces that truly "speak" to you – finding deeper meaning within each layer. Are you ready to get started?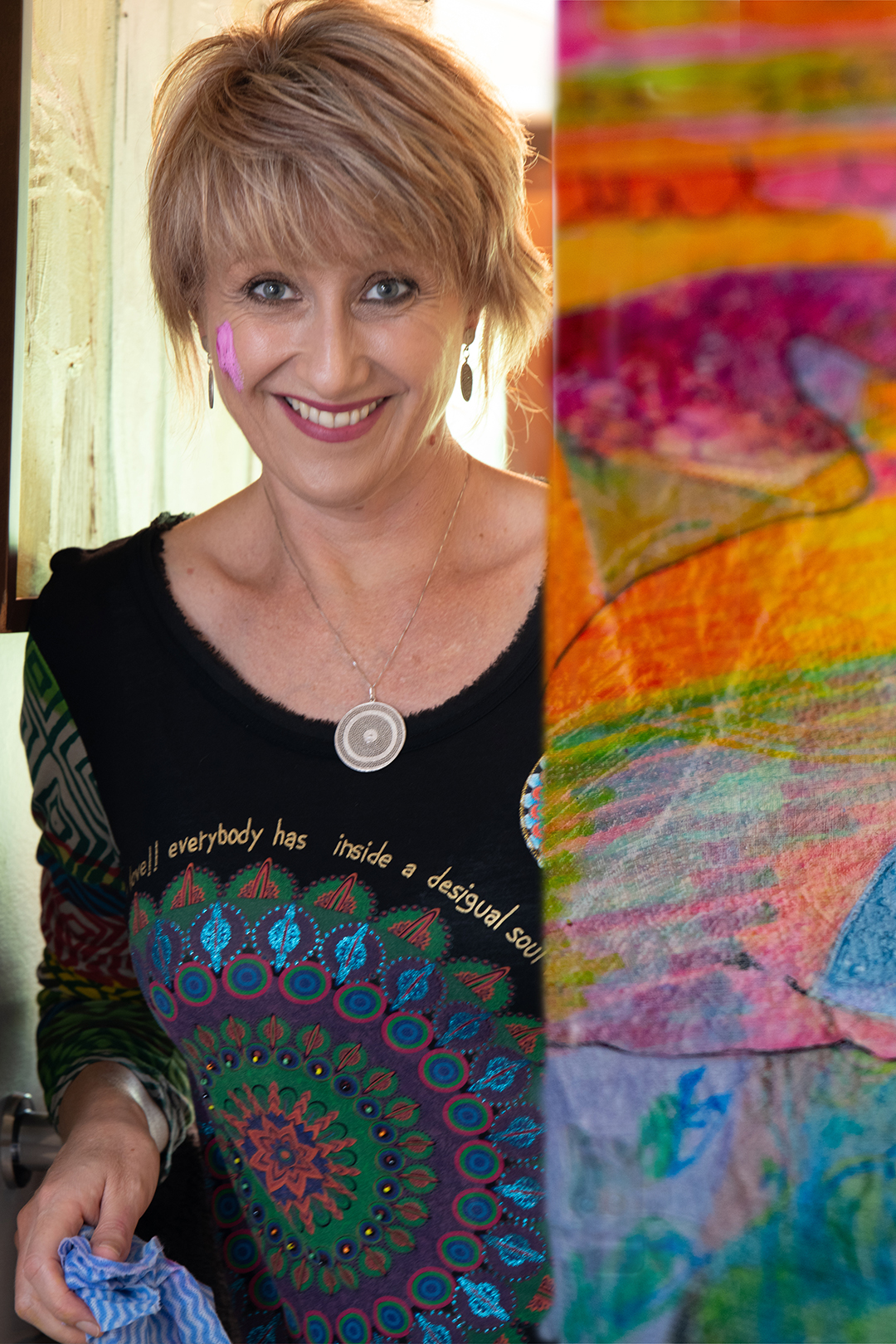 "AT A GLANCE" COURSE OVERVIEW
This course in mixed media abstract landscapes has been designed to be easy to follow, with step-by-step lessons broken up into relevant sections. 
There are 20 lessons in total – all professionally shot in my actual art studio here in Kiama, NSW, Australia. 
These lessons are split across SIX main sections – each representing an important stage in the process.
In total, there are more than six hours of quality multi-camera video plus extra printable resources included in this course.
The entire course can be completed at your own pace – over a few months or one rainy long weekend! 
By the end of the course, you will have a unique finished piece as well as all my tips and techniques at your fingertips to help create future pieces.
Available in days

days after you enroll

INTRODUCTION
Available in days

days after you enroll

SECTION 1 - INSPIRATION
Available in days

days after you enroll

SECTION 2 - SUPPLIES & MATERIALS
"WHAT'S THE COURSE LIKE?" 
I have held many studio workshops – and here's what people had to say…
 "Your workshop triggered something amazing in me and since I have been absolutely obsessed with learning everything about art." – Dianne Q
"Sharon wholeheartedly shares every step … and is so generous with her knowledge of products and tips for creating quality art." – Ursula L
"Sharon's knowledge, encouragement, support, patience and reassurance enabled me to produce a piece of art that I thought only 'seasoned artists' could achieve." – Angela V
"I learnt how to paint primarily using my intuition rather than my logical/structured mind. This enabled me to be free with my art and to relax into it and create amazing art. Well worth my investment." – Grace P
"You have the ability to instil confidence, spread inspiration and get the best out of us all. A truly great experience." – Helen C
"I was able to produce an incredibly beautiful aesthetic piece which will hang in my home. I have been truly inspired!" – Sarah E